A break in the clouds for typhoon-hit Taiwan: 1,000 survivors found
(Read article summary)
Villagers were being ferried to safety Wednesday, though heavy rains disrupted rescue efforts. A three-man crew died Tuesday when their helicopter crashed.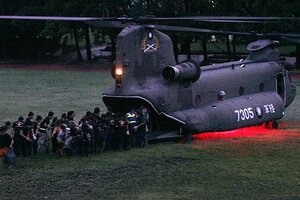 Pichi Chuang/Reuters
In the grim aftermath of Typhoon Morakot, Taiwan saw some good news Wednesday: Nearly 1,000 people feared dead in three remote villages were found alive and being evacuated to safety.
The typhoon, which also hit the Philippines and China over the past week, struck Taiwan the hardest – it's one of the island's worst typhoons in 50 years. The official death toll stands at 63, but hundreds more are missing and feared dead as mudslides have destroyed entire villages, most of them in southern Kaohsiung County. And heavy rain is disrupting rescue efforts: Three men assigned to airdrop supplies over a remote village were killed Tuesday when their helicopter crashed.
---