Mexico soccer win vs. US is vindication for many grievances
(Read article summary)
Mexicans feel distinctly aggrieved toward the US on issues from immigration reform to the economy. On Wednesday, soccer was their revenge.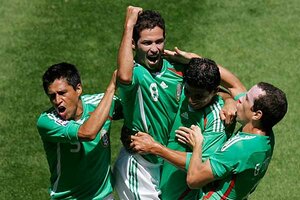 Miguel Tovar/AP
When it comes to US-Mexico relations, Mexico hasn't exactly been on equal footing recently.
Experts in the US have said Mexico is at risk of becoming a "failed state," the US government has warned American travelers to avoid parts of Mexico because of drug violence, and the American recession has dragged Mexico down with it – to the point that Mexico's economy is expected to shrink more than it did during its devastating "Tequila crisis" of 1995.
And forget about long-awaited immigration reform here.
So its win against the US here Wednesday in a World Cup qualifier was more than just a step closer to the finals next year. The 2-1 defeat saved face – stealing a chance for the US to take home its first win at the famed Azteca Stadium and vindicating Mexico from a list of grievances brought on by its dominating northerly neighbor.
"For many people, soccer is maybe one of the few things that we can do better than the Americans," says Ramon Raya, a soccer columnist in Mexico and former professional player.
Mexico's cantinas were filled with fans, who worked extra hours yesterday to take off early and catch the afternoon game. Cheers erupted from bars and restaurants as Mexico put in its final goal, late into the second half of the game.
---