Bill Clinton's latest tough sell: Haiti
(Read article summary)
The former president, who was recently named UN Special Envoy to Haiti, plans to go there in October on a 'major trade mission.'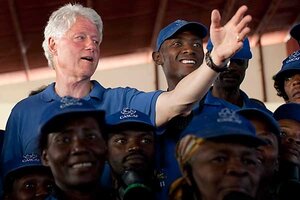 Eduardo Munoz/Reuters
Bill Clinton's recent appointment as United Nations Special Envoy to Haiti has been overshadowed by his other news-grabbing deeds of late. But even for someone who can get journalists out of jail in North Korea and lower the cost of AIDS drugs worldwide, Mr. Clinton's promises for his new UN mission are extraordinary.
Clinton described his new job last week before the Haitian Diaspora Unity Congress in Miami. It was a gathering of more than 300 Haitian professionals and aid workers to talk about how to consolidate efforts to help their homeland.
Clinton opened his remarks with ironic modesty, telling the room that his job is to coordinate the efforts of the UN agencies in Haiti, "and do a few other things, too." Those things, he expounded, include improving disaster prevention and recovery, seeking investors and donors, hectoring donors to follow through on pledges, and presenting "the best possible image of Haiti to the rest of the world."
---
Follow Stories Like This
Get the Monitor stories you care about delivered to your inbox.