Truck bomb signals trouble on Russia's southern flank
(Read article summary)
A week of regional violence climaxed Monday in Ingushetia when a suicide bomber blew a hole in a heavily fortified police headquarters, killing at least 20.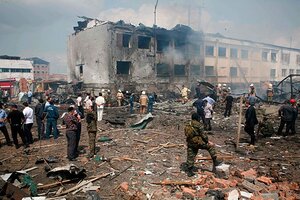 Musa Sadulayev/AP
A week of extremist attacks on Russia's seething southern flank climaxed Monday with a suicide truck bombing in Ingushetia that killed at least 20 and injured scores outside a police station in the tiny republic's main city, Nazran.
The resulting explosion triggered a "raging fire" that destroyed a weapons room, incinerated nearby cars, and damaged nearby apartment buildings, according to an Associated Press (AP) report from Nazran. It was one of the deadliest attacks in the region in years, the AP said.
Violence by Islamist insurgents, once confined mainly to separatist Chechnya, has gradually spread throughout much of Russia's northern Caucasus, leaving Russian authorities increasingly unable to guarantee order, or even protect pro-Moscow officials, in the mainly Muslim region. (See map.)
For Moscow, the stakes are huge. The northern Caucasus region is Russia's gateway to the energy-rich and strategically vital southern Caucasus, which includes the former Soviet nations of Georgia, Azerbaijan, and Armenia.
---