Baghdad bombings: A Sunni backlash?
(Read article summary)
At least 86 people were killed in the worst bombing since February 2008, presenting a serious challenge to the Shiite-led government.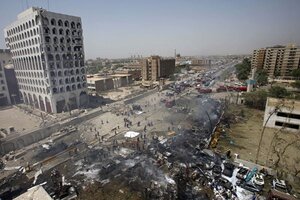 Khalid Mohammed/AP
Apparently coordinated truck bombs and mortars targeted installations of the Shiite-led government across Baghdad on Wednesday, killing at least 86 people in the deadliest day for Iraq's capital in 18 months.
Most of the damage was caused by two truck bombs that exploded just minutes apart outside the Finance Ministry and the Foreign Ministry. The bomb at the Foreign Ministry also blew out windows in Iraq's parliament building and at the Rashid Hotel, where many senior Iraqi politicians live.
The Green Zone, home to the US and other embassies, took mortar fire at around the same time, as did a busy central Baghdad market and one of the city's bridges across the Tigris river.
US forces withdrew from Iraq's cities on June 30, and attacks in Baghdad and elsewhere have been on the rise since. Though that has probably made it easier for insurgents to carry out bombings, defense analysts as well as the Pentagon itself have pointed out that simmering sectarian tensions that fuel such attacks have not been addressed.
---