Police crack down on journalists during Afghan election
(Read article summary)
Reporters on the streets of Kabul faced beatings and arrests as the government warned that reports of violence could scare voters from the polls.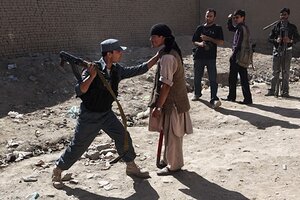 Kevin Frayer/AP
KABUL – The Afghan government kept its promise not to tolerate the efforts of the press to report on violent incidents during its national election Thursday. Reporters in Kabul faced arrest, beatings and close calls with angry mobs.
In a press release Wednesday, the Afghan government announced that it was placing a ban on all reports of election day violence. Government officials say that they were worried such reports would scare Afghans away from voting. Instead, many journalists caught a fright.
Ruben Terlo, a Dutch documentary photographer, was detained by Afghan police because he was taking pictures in the aftermath of a Taliban and police gun battle.
"A police officer chased me down the street, beat me up, and confiscated my cameras," says Mr. Terlo. "I was lying in the dirt and they were hitting me with the butts of their rifles and kicking me with their boots. I was seriously scared for my life. When he had that rifle in his hands and he was pointing it at me, I though that was it."
During this time, Rohulla Samadi, a translator for Killid Media, Afghanistan's largest independent media organization, was also detained. Thirty minutes later, Mr. Samadi and Terlo were released and Terlo was given back his camera.
That incident began when a group of journalists visited Kabul's District Eight after an hour-long firefight between the Taliban and police. Within minutes, police moved through the crowd, ripping video and still cameras off the shoulders of photographers and television reporters. Samadi and Terlo were separated from the larger group.
---