Usain Bolt shatters another world record. Must be the yams!
(Read article summary)
At the world championships in Berlin today, Bolt ran the 200 meter sprint in 19.19 seconds. How does he do it?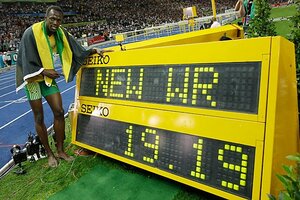 Anja Niedringhaus/AP
Somebody please make it stop.
That Jamaican, he keeps messin' with our heads.
Usain Bolt keeps doing things that shouldn't be done. Things that boggle the mind.
He makes older sprinters start to think about other careers. He makes liars out of track commentators.
This time, the fastman from Trelawny, Jamaica, brutalized his own 200-meter world record set last year in Beijing.
Today, at the world championships in Berlin, he ran the 200 meter sprint in 19.19 seconds. And he won going away with the largest margin of victory in that race in Olympic or world history.
That's two world records in one week. Five world records in his last five championship races.
Staying loose
Before the race, Bolt strolled around the track taking in the atmosphere while sporting a Jamaican warm-up shirt with the slogan: "Ich bin ein Berliner."
He traded fake punches with fellow competitor (and fellow goof-off), American sprinter, Wallace Spearmon.
He moved toward the camera, put his right hand, then his left hand "through" his hair and said to the world: "Come get me."
At that point, no one but Bolt thought he'd set a world record - let alone win.
Days earlier, American sprinter Shawn Crawford called Bolt a dragon, followed by, "but I'm a dragon slayer."
Um, not this time.
---