Lockerbie bomber's release is a Scottish decision
(Read article summary)
The affair offered an opportunity for Scottish nationalists to assert their nation's independence.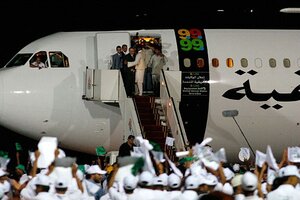 REUTERS
For anyone already bitter at the early release of Abdelbaset al-Megrahi from a Scottish prison, the sight of the reportedly terminally-ill Libyan receiving a hero's welcome Thursday in Tripoli was hard to stomach.
Hours earlier, the only person convicted of the murder of 270 people in the 1988 bombing of Pan Am flight 103, was freed on compassionate grounds by Kenny MacAskill, the Justice Secretary in Scotland's first nationalist-run devolved government.
But while the spotlight elsewhere has focused on the outrage of US officials and victims' relatives, in Scotland the affair is the latest chapter in the bitter battle between the pro-independence Scottish National Party (SNP) and its political opponents.
Tim Luckhurst, a former editor of The Scotsman newspaper and critic of the SNP, pointed out that when powers were devolved to Scotland in 1999, the British government was careful not to hand over responsibility for foreign affairs, "in order to avoid to avoid giving nationalism the capacity to embarrass Britain abroad."
"Britain cherishes its relationship with Washington and the Megrahi case handed the Scottish National Party the chance to disrupt it," he wrote in The Independent. "This was not the behaviour of a grown up government."
---