Afghan election results close as fraud claims mount
(Read article summary)
Top candidates Hamid Karzai and Abdullah Abdullah stand nearly tied at 40 percent. But 90 percent of polling stations remain to be counted and a rising number of fraud complaints adjudicated.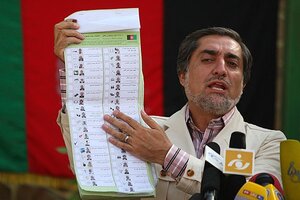 Rafiq Maqbool/AP
KABUL, AFGHANISTAN – Partial tallies of Afghanistan's presidential election reveal a neck-and-neck race between the incumbent Hamid Karzai and his strongest rival. Only 10 percent of the polling stations had been counted as of Tuesday afternoon and complaints of electoral fraud continue to mount, threatening to become the main theme of this election.
President Karzai leads 40.6 to 38.7 percent over his main challenger, Abdullah Abdullah. If neither tops 50 percent, the election will go to a runoff on Oct. 1. Many provinces with population centers believed favorable to Mr. Karzai remain largely uncounted, according to breakdowns given by the Independent Election Commission (IEC).
Initial results show low turnout
The initial figures say next to nothing, warn analysts, beyond confirming that turnout was low. Voters cast only 555,842 ballots in the one-tenth of polling stations counted so far, suggesting the final total will be in the ballpark of 5 million out of 17 million registered. In 2004, 7 million voters took part out of 10 million registered.
---