Japan ready to vote in major shift in leadership?
(Read article summary)
National polls Sunday could oust the long-ruling Liberal Democrats. Voter participation is expected to be high.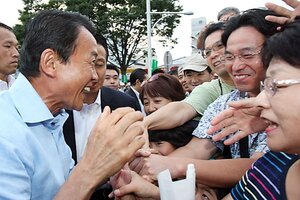 Koji Sasahara/AP
Japan without the LDP? The prospect might just be galvanizing enough to get apathetic voters to national polls on Sunday.
The Liberal Democratic Party is the face of Japan's postwar politics. They're the guys who ran the political show as Japan emerged from occupation to build itself into an export-driven powerhouse. They're also the ones who have become associated with a sense of ennui and clubbiness that made last year's party election of current Prime Minister Taro Aso about as exciting as watching grass grow.
So to send them packing? It could portend a significant shift for a country that many view as having faltered badly after a sparkling run in the '80s as an economic superpower.
A poll by broadcaster NHK indicates that 90 percent of voters planned to go to the polls – a sharp rise from the 68 percent who voted in lower house elections four years ago, reports The New York Times. And Agence France-Presse notes that young people may raise their voices in a way not seen lately in a country that focuses more on the older set (with good reason – Japan is one of the most rapidly aging societies in the world).
---