Crackdown on royal critics deepens in Thailand
(Read article summary)
A political activist was sentenced to 18 years Friday for offending the royal family. Dozens of activists and citizens have fallen foul of a criminal law on royal libel.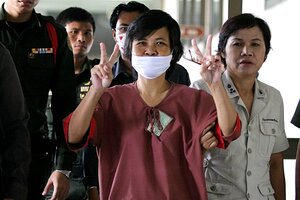 AFP/Newscom
News coverage of political prisoners in Southeast Asia usually means Burma (Myanmar), which is rightly excoriated for keeping opposition leader Aung San Suu Kyi behind bars.
But when it comes to the taboo topic of royalty, neighboring Thailand is starting to catch up. Dozens of activists, bloggers, and other citizens have fallen foul of a criminal law on royal libel known as lèse-majesté. Censors have stepped up surveillance of the Internet and snooped on chatrooms.
On Friday, a court in Bangkok sentenced Daranee Charncherngsilapakul to 18 years in jail for offending the royal family. Ms. Daranee, a political activist, was arrested last July after making a series of rabble-rousing speeches. She has said she will appeal the sentence.
In April, an engineer was sentenced to 10 years in jail for posting video on YouTube that was deemed offensive. In January, an Australian author was convicted over a passage about a Thai prince in an obscure novel, but was later pardoned and released. Other similar cases are under police investigation.
---
Follow Stories Like This
Get the Monitor stories you care about delivered to your inbox.