South Korea on guard after deadly flash flood from North
(Read article summary)
Seoul demanded an apology Tuesday after Pyongyang released without warning a torrent of dam water that killed six people in the South.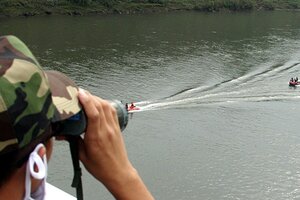 Newscom
Will North and South Korea get swept away in a feud over a flash flood?
Seoul demanded an apology and clearer explanation Tuesday after six people in South Korea were killed because the North released a surge of dam water without prior notice. North Korean authorities admit that they released the water Monday, but only to offset a sudden, alarming rise in water levels. Still, newspapers in the South are blasting their "Stalinist" neighbor to the North for failing to show sufficient regret.
The water row has the potential to ignite tensions between the two countries, after weeks of friendly gestures from Pyongyang. Some reports suggest the incident was intentional, while others fear it could easily happen again.
The water has been pinpointed as originating in the North, Korea's Yonhap English-language news service reports:
Seoul officials believe the discharge originated from the Hwanggan Dam, some 40km north of the border, which was reportedly completed in 2007 to produce electricity and provide water for agricultural and industrial purposes…
The discharge took a heavy toll on weekend vacationers. Five of the victims, including an 8-year-old boy and his father, were camping 25km south of the demilitarized zone that bisects the Koreas, while the other was fishing 38km away from the border when they were swept away, according to the Ministry of Land, Transport and Maritime Affairs that oversees flood-related issues.
---