Netanyahu defiant on Israeli settlements ahead of Mitchell meeting
(Read article summary)
The funeral of Assaf Ramon, a young fighter pilot and son of Israel's first astronaut, has delayed Netanyahu's talk with Mitchell until Tuesday.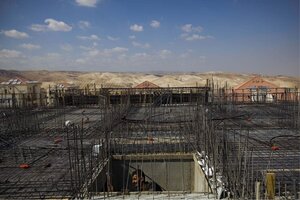 Bernat Armangue/AP
JERUSALEM – A key meeting between Israeli Prime Minister Benjamin Netanyahu and US Middle East envoy George Mitchell to negotiate a freeze on Israeli settlements was postponed on Monday. The two men were instead to attend the funeral of a young fighter pilot who had aspired to fill the shoes of his father, Ilan Ramon, Israel's first astronaut and a national hero who was killed in the Columbia space shuttle crash in 2003.
The career of Assaf Ramon, a 21-year-old enlisted soldier, has been followed closely in Israel. His death in a F-16 fighter jet crash during training exercises on Sunday has captured the empathy of the Israeli people, pushing front-page attention away from Mr. Mitchell, a former senator and veteran peacemaker.
A large part of Mitchell's latest mission here has been to get Mr. Netanyahu to agree to a settlement freeze, which has been the most visible sticking point in Washington's attempts to bring Israeli and Palestinian leaders together to restart peace negotiations.
---