Elton John too old, too gay to adopt child, says Ukraine
(Read article summary)
The HIV-positive baby boy, Lev, had "stolen [Sir Elton's] heart" when he visited an orphanage as part of an anti-AIDS charity project.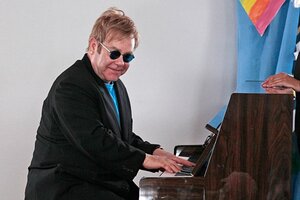 Efrem Lukatsky/AP
First it was legendary pop diva Madonna. Now it's legendary pop singer Elton John.
Celebrities, it seems, just can't catch a break these days ... at least when it comes to adopting children from developing countries.
Sir Elton was prevented from adopting from Ukraine this week.
Why? Well, he's too old, for one thing. Ukrainian law states the age difference between the adopter and the child cannot be more than 45 years. Elton John is 62 years old.
Is that really too old? Haven't grandparents been raising kids since, well, forever? Look around Africa today, the AIDS epidemic has made it a necessity.
But there's also the rule that you have to be married to adopt from Ukraine. The country does not recognize Sir Elton's civil partnership with David Furnish as a marriage.
Is this really about Sir Elton being gay?
Ukrainians haven't exactly been known for their tolerance of homosexuality, and some of the early reaction there bears that out.
Here's a taste from an Agence France-Presse story:
"They are going to destroy this child's life," said Oleg, a 29-year-old serviceman from the area of the orphanage who only gave his first name.
---