How does Iraqi shoe-thrower rank among footwear misusers?
(Read article summary)
The shoe-thrower comes in at No. 5 on our list of men known for doing something other than wearing their kicks. Read on for the top four.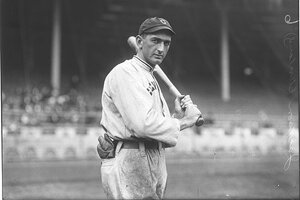 Newscom
Muntadhar al-Zaidi was released from Iraqi prison after serving nine months for the crime of throwing a shoe at President George W. Bush on his last trip to Iraq (the joke inside the country was Mr. Zaidi's conviction was handed down because he missed.)
The TV journalist has become something of a local hero for expressing widespread public anger at Bush and America in such a dramatic way. In Arab cultures, it's considered impolite merely to expose the sole of your foot. Superstitious Iraqis hang baby shoes from their rear-view mirrors to ward off bad luck and the evil eye. Throwing a shoe? That's a declaration of war.
Though there are now serious issues to be dealt with in the wake of Zaidi's release – he came out of jail with a front tooth missing and alleges he was tortured by officials during his detention – he's not the first man in history to make a splash using a shoe for something other than its intended purpose. And he spawned a legion of imitators, from Britain to India.
Here's our list, in reverse order, of the most enduring cases of shoe misuse, with Zaidi at No. 5.
---