Russia's response to US missile defense shield shift
(Read article summary)
Moscow has long opposed a missile shield in Poland and the Czech Republic. But the US shouldn't expect too much in return.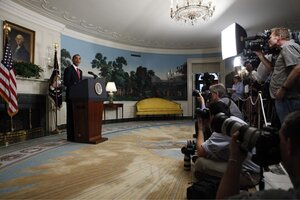 Charles Dharapak/AP
MOSCOW – President Barack Obama's decision to shelve plans for a missile defense shield in Eastern Europe could be seen as a major concession to Moscow. But given years of vehement opposition to the controversial plan, Russian reaction to the move appears surprisingly lukewarm.
So what does it mean for US-Russia relations?
There are indications that Russia might support tougher sanctions on Iran, and fresh START talks, as well as more cooperation with the war in Afghanistan. The Kremlin also expects the US to back off on expanding NATO, say Russian analysts.
"We see this as a pragmatic decision," says Pavel Zolotaryov, deputy director of the official Institute of USA-Canada Studies, suggesting that internal US factors mainly account for Mr. Obama's choice. "Obama's sober approach is understandable, given the [economic] crisis, because this project would have given nothing but trouble."
---