Media frenzy over Yale murder draws criticism
(Read article summary)
Commentators in New Haven, Conn., where Yale is located, said other local murders should get just as much attention as Annie Le's. Police charged lab technician Raymond Clark III Thursday.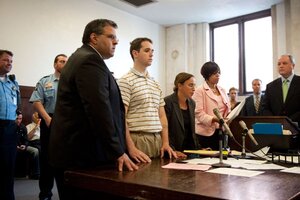 Douglas Healey/AP
The murder of Yale graduate student Annie Le continued to draw extensive media coverage early Friday, one day after police arrested lab technician Raymond Clark III and a judge set his bail at $3 million.
Some New Haven commentators have begun to criticize the outsize attention surrounding Ms. Le's death, while Yale officials are trying to allay safety concerns it has triggered among students.
Police charged Mr. Clark with Le's murder after his DNA was found in the wall of a Yale building where her body was found stashed last Sunday.
Clark, who worked in the building, attempted to hide lab-cleaning equipment spattered with blood even as investigators were interviewing employees and students in the lab. That, combined with the DNA match, wounds on his body, and computer records showing he was the last person to see Le alive, led to Clark's arrest, the Los Angeles Times reported.
Police have not revealed a supposed motive for the crime, which they have referred to as an incidence of "workplace violence," not urban crime.
---
Follow Stories Like This
Get the Monitor stories you care about delivered to your inbox.