Milan's fashionistas are reeling from the recession
(Read article summary)
At Milan's fashion week, the festivities are more subdued this year, with big names like Fendi bowing out and other fashion houses cutting costs.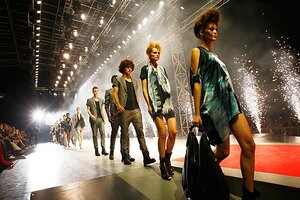 Antonio Calanni/AP
MILAN, ITALY – Even Milan fashion week, where frivolous fashions are launched and fortunes and reputations made, isn't immune to the effects of the global recession.
Though still a "must" event for the luxury-addicted around the world, the marketing push that began yesterday was definitely missing something. A number of design houses, including superstars Fendi and Dolce & Gabbana, chose not to attend the event – citing disagreements on the schedule.
And there is less champagne and caviar to go around this year, as Italy's ready-to-wear industry faces a sharp slump in sales according to a report published last week by fashion trade Federation "Sistema Moda Italia."
Fashion reporters say that for the first time they're being charged to attend events, to use press rooms, and for transportation offered by sponsors.
"This is just so decadent" says Nunzia Garoffolo, who runs a fashion blog. "I understand everybody needs saving money, but you cannot run a fashion week in a shabby way. That just makes no sense. I'm not just talking about the reporters' fees, this event lacks the luxury image it deserves".
---