Nethanyhu's speech: a quick summary
(Read article summary)
At UN, Benjamin Netanyahu challenged Holocaust deniers, fundamentalist Islam, and war crimes charges in Gaza.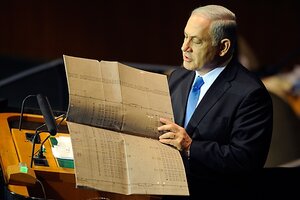 Henny Ray Abrams/AP
Israeli Prime Minister Benjamin Netanyahu chose to directly challenge Iranian President Mahmoud Ahmadinejad at the United Nations on Thursday.
Waving minutes of a Nazi meeting on Jewish extermination and blueprints of the Auschwitz concentration camp, he staunchly defended Israel's right to exist in peace. Invoking the courage of Winton Churchill, he sought to rouse to action the international body that had recognized that same right 62 years ago.
His three main points were – offered here as a summary, rather than an analysis:
1) The United Nations has a fundamental mission to prevent another disaster on the scale of the Holocaust. Nothing has undermined this mission more than the "systematic assault on the truth" and the UN must refuse to be a platform for such lies.
2) Iran is fueled by an "extreme fundamentalism" that is behind all modern Islamist terrorism and has pitted civilization against a dangerous barbarism. In contrast to Iran's backwardness, Israel is an innovative global leader in numerous areas, including science and technology, agriculture and water, and energy and the environment.
3) The UN Human Rights Council's recent condemnation of Israel's conduct during the Gaza war, described in the Goldstone report, is based on a dangerous moral equivalency that would have turned Churchill and Franklin D. Roosevelt into war criminals.
---