If McChrystal gets his Afghan surge, how many troops will be there?
(Read article summary)
With Gen. McChrystal pushing President Obama for 40,000 more troops in Afghanistan, we take a look at the evolution of America's military commitment to the war there.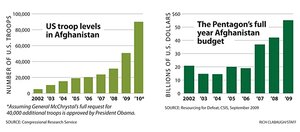 Gen. Stanley McChrystal, as part of his comprehensive strategy review for the war in Afghanistan, has asked President Barack Obama for up to 40,000 more troops. It's not clear he'll get them – President Obama is concerned about spending more lives and money propping up the deeply corrupt government of Afghan President Hamid Karzai – but the pressure to make a decision on the matter is mounting.
No matter what Obama decides, the United States commitment has already dramatically expanded during eight years of war. What began as a tiny operation using air power and satchels of money – carried in some cases by Special Forces soldiers on horseback to Afghan warlords willing to fight the Taliban – has expanded during every year of the war.
The attached graph on troop levels shows monthly averages. In Afghanistan, where heavy winter snows make much of the country impassable, there are much greater month-to-month fluctuations in US troops levels than in Iraq. In 2008, for instance, the US had 26,600 soldiers on the ground in January and 48,250 in June. The 2010 figure is the Monitor's own back-of-the-envelope calculation for a monthly average assuming 40,000 more troops are approved.
---