Michelle Obama is 'suntanned'? Berlusconi's Top 5 gaffes
(Read article summary)
Italian Prime Minister Silvio Berlusconi called President Obama 'tanned' ... again. And this time he brought the First Lady Michelle Obama into it.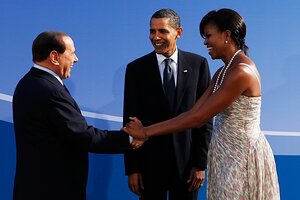 Charles Dharapak/AP/File
There he goes again.
That President-Obama-is-"tanned" line, apparently, doesn't get old for Italy's flamboyant, controverial Prime Minister Silvio Berlusconi.
So, he trotted it out again, this time in reference to First Lady Michelle Obama.
At a rally on Sunday night Mr. Berlusconi said: "I have to bring you some greetings, greetings from a man, what is his name, what is his name – just a minute it was someone with a tan – ah, Barack Obama."
He then added: "You won't believe it, but they went together to the beach to get a tan because even his wife is suntanned."
If you're hearing crickets, you're not alone. But Mr. Berlusconi got a nice chuckle out of it, and so did his audience of cheering, smiling supporters. (video below)
Racist gaffe?
Italy's opposition, as usual, is making a stink. "He makes us look ridiculous before the whole world," said L'Unita the opposition newspaper in a front-page article, adding that the comment was "a racist gaffe." The left-leaning La Repubblica said it was a "reckless comment."
Berlusconi last year called Obama "young, handsome, and tanned," and the past few years are littered with his high-profile buffoonery (see Top 5 below), comments that are usually referred to as "gaffes" even though a gaffe (ask Vice President Joe Biden) usually implies that the guilty party actually made a mistake.
---