'Going Rogue': Sarah Palin's 400-page book due Nov. 17
(Read article summary)
Former vice-presidential candidate Sarah Palin's memoirs will have a huge initial printing of 1.5 million copies - the same amount as late Sen. Ted Kennedy's.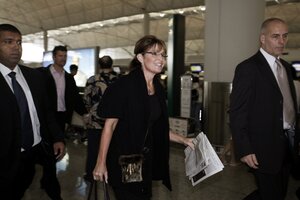 KIN CHEUNG/AP/FILE
Former vice-presidential hopeful Sarah Palin has finished her much awaited memoir, "Going Rogue: An American Life." The book, which is due out on Nov. 17, has many wondering if Ms. Palin, a favorite among possible Republican candidates, is gearing up for a presidential bid in 2012.
The book may certainly help. Palin's publisher, Harper, moved up the release date and ordered a huge initial printing of 1.5 million copies – the same amount as the late Sen. Ted Kennedy's memoir.
"Going Rogue," Palin's first book, was completed only four months after the deal was announced. It is expected to weigh in at 400 pages.
Since resigning as governor of Alaska, Palin reportedly hunkered down for weeks in San Diego to write the book, working closely with ghostwriter Lynn Vincent. Ms. Vincent has a successful track record: Her collaboration with an art dealer who befriended a homeless person, "Same Kind of Different as Me," has sold 560,000 copies, spent 75 weeks on The New York Times bestseller list, and been considered for a Hollywood movie, reports the San Diego Union Tribune.
Neither Vincent nor Harper would disclose the contents of the book. But Harper editor Jonathan Burnham said it contained "fascinating details," according to the Associated Press.
---