Britain's PM Brown loses key endorsement from Sun newspaper
(Read article summary)
For the first time since 1997 Britain's top-selling newspaper, the Sun, backed a party other than PM Gordon Brown's Labour. The loss, which came shortly after Brown's high-profile effort to rally support, underscored Labour's troubles ahead of May elections.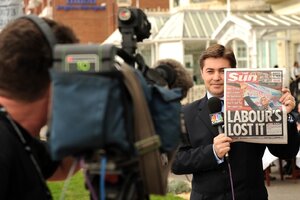 NEWSCOM
Britain's embattled Prime Minister Gordon Brown made what observers called a last-ditch effort Tuesday to shore up support ahead of elections next May. Sooner after his speech, however, a high-profile supporter had dumped Mr. Brown and his Labour Party and called for new leadership.
Pummeled by the global recession and holding out for change, many voters in England are looking instead to the center-right Conservative Party. Polls show the Conserative Party is well ahead of Labour, with 34 percent of votes versus 24 percent.
A win for the Conservative Party would be the first change of government in Britain since 1997.
Tuesday marked a crucial day for Brown, his last chance before May to address an annual conference of the Labour Party. With polls looking grim, Brown's task was to make the conference a kickstart, not a eulogy, for the party.
To boost morale, Brown focused his remarks on the values and struggles of the middle class, making an impassioned pledge to fight the election on their behalf. He also introduced a string of reform-minded policies, including "ten hours of free childcare a week for 250,000 two-year-olds from families "on modest or middle incomes", and "a [$2 billion] "innovation fund" to boost industry," reports the BBC.
Brown and his party are fighting to stay alive because a string of political scandals, coupled with the global recession, have pummeled their popularity ratings. The war in Afghanistan, which Brown and his Labour predecessor Tony Blair both championed, has also lost popularity and dented ratings. Brown is trapped between "corrupt ministers and angry soldiers," wrote Benedict Brogan, chief political commentator at the Telegraph.
---