Tsunami near American Samoa kills 34, triggers regional alert
(Read article summary)
President Obama declared Tuesday's tsunami a 'major disaster' and dispatched aid to American Samoa. As many as 120 people may have died, and more tsunamis could hit.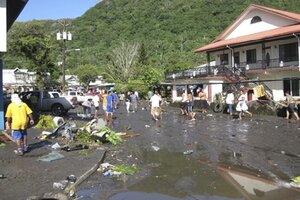 AUSAGE FAUSIA/ SOMOANEWS.COM / AP
A powerful tsunami sent walls of water shooting onto the islands of American Samoa and Samoa on Tuesday, wiping away entire villages and claiming at least 34 lives and possibly as many as 120. Authorities in neighboring Tonga feared many were killed there as well, after a 13-foot wave crashed into the coast.
The tsunami was triggered by an 8.0-magnitude earthquake that caused tremors in Hawaii, raised sea levels in New Zealand, and sent a tsunami warning throughout the South Pacific.
With the death toll expected to rise, United States President Barack Obama declared the tsunami a major disaster and dispatched a C-130 cargo plane to American Samoa, an US territory, to deliver relief aid.
Hawaii was spared from the waves, but a tsunami advisory has been put in effect for California, where waters could rise by up to 60 cm (24 in) along a strip of coast from Santa Cruz to San Francisco. Authorities, however, do not expect any major damage in California, according to the Bay Area's Kron 4 television website.
---