Why are Angelina Jolie and Brad Pitt in Syria?
(Read article summary)
Angelina Jolie and Brad Pitt were in Syria to support the UNHCR's efforts to help Iraqi refugees.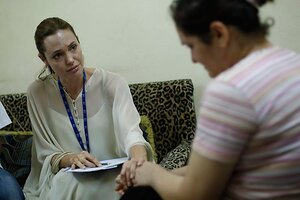 S. Malkawi / UNHCR
Brad and Angelina were in Syria on Friday.
Most major charities and NGOs have their celebrity ambassadors – mostly because the cameras follow them. And attention – any attention – can mean funds and/or political support for their causes. The United Nation's High Commission for Refugees is no exception. Angelina Jolie has been working with the UNHCR since 2001. This isn't a new gig for her. And this wasn't her first trip to Syria to highlight the plight of Iraqi refugees. She was there in 2007, too. She's been to Iraq three times.
On this trip, she and Brad met with Syrian president Bashar Assad and his wife, Asma, the UNHCR said. She also visited two Iraqi families living in one of Damascus' poorest neighborhoods.
One family fled to Syria in July after their son was twice kidnapped for ransom, and his mother was assaulted. One UNHCR photo shows Jolie in tears as the mother describes her ordeal. "I wanted to kill myself and the only reason I decided not to go ahead is because of my children," she told Jolie.
---