Philippines dodges typhoon Parma, but typhoon Melor is coming
(Read article summary)
The Philippines capital, Manila, still flooded from last week's hurricane, was spared a second major disaster when typhoon Parma veered north.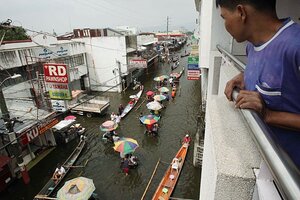 Bullit Marquez/AP
In a week that saw Samoa hit by a tsnuami and Indonesia shaken by a quake, the Philippines caught a break: Typhoon Parma missed the capital of Manila.
Just one week after a hurricane flooded 80 percent of Manila, killing 300 people and displacing at least half a million, the devastated city has been spared a second major storm.
Typhoon Parma had threatened to dump even more heavy rains over the city, trigger more landslides, and block relief efforts. President Gloria Macapagal Arroyo had declared a "state of calamity" in anticipation of more flooding.
Though typhoon Parma did strike the island of Luzon, where Manila is located, and kill 16 people, it then bypassed the capital and edged toward the less densely populated north. It was also downgraded to a tropical storm Monday, with winds of 59 mph and gusts of up to 75 mph, according to the Associated Press.
Typhoon to hover until Thursday
Parma is still expected to cause severe damage, though, dumping heavy rains not just in the northern Philippines but also Taiwan, where 6,000 villagers have been evacuated. Instead of continuing on its path away from the country, it's predicted to linger over the city of Laoag and surrounding areas until Thursday. That's because a third typhoon, Melor, churning in the Pacific, is acting "like a magnet" and holding Parma in place, according to Agence France-Presse.
---