Slain Russian journalist Anna Politkovskaya symbol of threatened press
(Read article summary)
Anna Politkovskaya was murdered three years ago, but her killers have not been brought to justice. Russian journalists say that's a sign of how dangerous their jobs have become.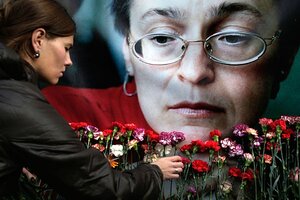 Pavel Golovkin/AP
The weather was sunny and clear, but the mood was grim as hundreds gathered in a downtown Moscow park Wednesday to remember crusading reporter Anna Politkovskaya, who was gunned down, virtually at her own doorstep, in a political assassination three years ago.
The still unsolved murder of Russia's best-known investigative journalist raised suspicions of Kremlin involvement -- which have yet to be laid to rest -- and highlighted the plight of Russian media workers, who often face intimidation and violence when they attempt to do their jobs.
"Over 300 journalists have been killed in Russia in the past 15 years," says Pavel Gutionov, an official at Russia's 100,000-member Union of Journalists. "What other country has a record like that? Anna has become the symbol of what is happening here in Russia, and the fate of journalism in this country."
Two representatives of the international watchdog group Reporters Without Borders were apparently denied visas to attend Wednesday's memorial ceremony for Ms. Politkovskaya, a fact which many at the meeting cited as an illustration of Russian officialdom's ongoing displeasure with her and the work that she did.
Politkovskaya was one of a handful of Russian journalists to cover the brutal war in Chechnya, which the Kremlin has since declared to be pacified.
---