Herta Mueller: No nostalgia for Communism
(Read article summary)
Nobel Literature laureate Herta Mueller counters a current longing for the old days with harsh portrayals of their reality.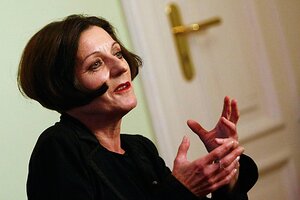 Fabrizio Bensch / Reuters
There are hints of "Ost-algia" in the air these days in Germany. One in seven German wants the Wall back, according to a recent poll published in Stern magazine. Many feel they were better off when the country was divided. They are bitter about high taxes and millions of dollars of their money poured into rebuilding the formerly communist east over the past two decades. And all that for what? For an eastern region that's depleting itself demographically, and where unemployment is twice as high as in western Germany.
But lost in those statistics is the reality of oppression.
This year's literature Nobel Prize is bringing that reality to the surface. German novelist Herta Mueller gives voice to key themes of the oppression, dictatorship, and exile that dominated not only her life but that of the millions of victims of the Soviet regime in Germany and Eastern Europe.
That's why German president Horst Koehler said it was a "good signal" that the top literary honor went to Herta Mueller on the 20th anniversary of the end of the dictatorships in Eastern Europe.
Herta Mueller "has a capacity of really giving you a sense of what it's like to live in a dictatorship; also, what it's like to be part of a minority in another country and what it's like to be an exile," Academy Permanent Secretary Peter Englund told Swedish radio news today, as he praised the woman who received death threats in her native Romania for refusing to cooperate with Nicolae Ceausescu's totalitarian regime.
---