Bagheera kiplingi: A vegetarian spider joins world's Jungle Book
(Read article summary)
Bagheera Kiplingi, the world's first vegetarian spider, shows how much creatures can change to exploit available resources.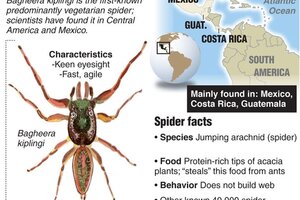 Spiders are the quintessential predators.
Their nearly 40,000 discovered species include eight-legged giants that feed on birds or hunt fish and tiny little demons like North America's Brown Recluse that are barely larger than a penny but have potent venom. There are the solitary ground-dwelling hunters like the Tarantula and others that look and smell just like ants - the better to safely move among them and eat them.
But all of them, until now, were believed to live only by taking life. That was before Bagheera kiplingi (aptly named for the friendly panther in Rudyard Kipling's Jungle Book) crept into view.
The recently described species of jumping spider, discovered by researchers from Villanova and Brandeis Universities, dines on the protein rich tips of acacias, the thorny shrubs found in much of Central America. What's more, it appears capable of eating food raw and digesting it (most spiders spit enzymes onto their prey that digests them externally into what, to spiders, is a tasty liquid).
But these thumb-sized spiders aren't mere leaf eaters. They're thieves.
The species of acacia, the salad bar favored by the Bagheera kiplingi, has protein-rich leaf tips and nutritious sap to reward its protectors. Protectors? Yes, the Pseudomyrmex ferruginea, are fearsome wasp-like ants with stingers to match. In return for food and shelter, the ants attack and drive off any insect that seeks to feed on the plant.
---