In Gaza, Mia Farrow highlights children's plight – and their hope
(Read article summary)
Nine months after Israel's offensive in Gaza to end Hamas rocket attacks, US actress and children's advocate Mia Farrow described widespread trauma – but also glimmers of resilience.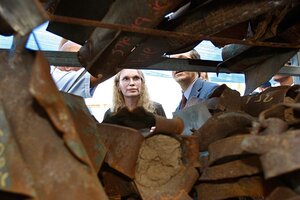 Gil Cohen Magen/Reuters
GAZA CITY, Gaza – US actress and children's rights advocate Mia Farrow sought to draw world attention to the severe humanitarian situation in Gaza at the end of a two-day tour Thursday, calling the Israeli blockade on the tiny coastal strip "unacceptable."
"All people of conscience are offended and outraged by this situation and we sincerely hope that measures will be taken to alleviate this situation as soon as possible," said Ms. Farrow, who spoke of children's trauma but also highlighted glimmers of resilience nine months after the Gaza war. "It's a collage of human destruction, courage, endurance and celebration."
A UNICEF Goodwill Ambassador since 2000, Farrow has been a vociferous advocate for children in conflict zones including Angola, the Democratic Republic of Congo, the Central African Republic, Nigeria, and Darfur – where she has repeatedly highlighted the devastating impact of continued violence on children. She also led an activist effort to label Beijing the "Genocide Olympics," highlighting China's connection with Darfur. While her efforts have been lauded by many, a recent opinion article in The Christian Science Monitor argued that activist hype in Darfur had misdirected funds that could have saved lives.
---