Pakistan: The newest cricket pros – women
(Read article summary)
For the first time this year, Pakistan's women's team qualified for two major international competitions, and players will be paid salaries of $120 a month.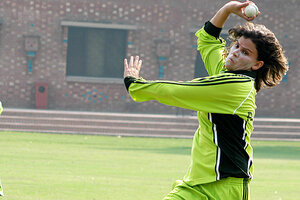 Issam Ahmed
• A local, slice-of-life story from a Monitor correspondent.
It's often said that Pakistan has two major religions: Islam and cricket.
But while young boys grow up dreaming about playing on the national team, which this year won a World Cup, that dream has long been denied to equally cricket-mad girls. Until now.
This year, after a stop-start entry into the women's game that began in the late 1990s, Pakistan joined the top tier of international women's cricket teams after qualifying for a place in two major world competitions. In September, administrators went one step further by announcing that regular salaries of $120 a month will be paid to the 16-member women's squad.
It's a far cry from the 1970s, when Shirin Javed, now head of the Pakistan Cricket Board's women's wing, organized women's games next to the men's stadium in Lahore. "Back then, no one took us seriously. We didn't have any of the facilities available to the girls now," she says.
In addition to the salaries, which are being sponsored by a local bank, efforts are under way to organize a nationwide competition called the Benazir Bhutto Cup, to be held in December, says Mrs. Javed. And unlike previous years when Islamic sensibilities meant that women's cricket could only be viewed by women or the players' families, this year events will be open to all.
But the women's game is still beset by problems. Many families do not consider sport to be a suitable profession for their daughters. Many players are married off in their early 20s and forced to retire. And women from smaller towns often cannot go to the gym or run in the street because it would be considered "immodest."
For Sana Mir, a key batter on the national team, the biggest gripe is lack of television coverage. "If they can show the Under-19 and Under-15 boys' teams on TV, and even men's street cricket," she says, "why not women's international games?"
Still, she sees encouraging signs. "Until we competed in the World Cup this year, most people didn't know we even have a women's team," she says. "Now they do."
---
Follow Stories Like This
Get the Monitor stories you care about delivered to your inbox.