Afghanistan runoff: Abdullah wants election chief sacked
(Read article summary)
Abdullah Abdullah, the top challenger to President Karzai in Afghanistan's election, said Monday he would otherwise not participate in the Nov. 7 runoff. The ultimatum could be a cover to withdraw from the race.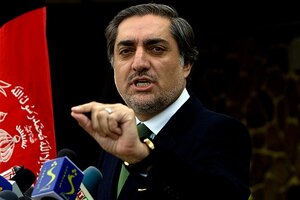 Farzana Wahidy/AP
KABUL, AFGHANISTAN – Abdullah Abdullah, the main opposition candidate in Afghanistan, demanded Monday the dismissal of the country's top election officer as a condition for taking part in a runoff vote scheduled for Nov. 7.
Many analysts see his ultimatum – which also called for the suspension of several government ministers – as highly impractical so close to the ballot. Instead, it could serve as cover for an honorable withdrawal from the race.
Although election officials have been rushing to organize a second round of voting after frontrunner President Hamid Karzai reluctantly agreed to one last week, the possibility of a powersharing deal between the two candidates has persisted as a more pragmatic solution.
Flanked by running mates, campaign aides, and turbaned elders, Dr. Abdullah said his conditions were "the most modest demands we could come up with. The people of Afghanistan … were disappointed. They don't want to go through the same thing in a few days' time. These are the minimum conditions" for participation in the second round.
On the subject of the Independent Election Commission's perceived bias towards incumbent President Hamid Karzai, Abdullah referred to a quote by IEC chairman Azizullah Ludin from The New York Times: "We will have another election, and we'll have the same result. Karzai is going to win." Abdullah also accused the IEC of violating Afghan law by "changing results announced by the [UN-backed] Electoral Complaints Commission."
---