World's best dressed candidates? In Afghan election, it's cape versus cravat.
(Read article summary)
How to dress for success in Afghanistan? Hamid Karzai and Abdullah Abdullah are candidates for the world's best-dressed politicians.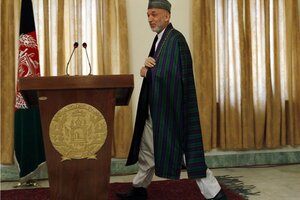 Ahmad Masood/Reuters
KABUL, AFGHANISTAN – It's an old complaint: Reporters will point out the sartorial choices of female politicians while their male colleagues rarely get the same treatment.
So let's strike a blow for gender equality and, as a bonus, say one of the few upbeat things that can be said about the Afghan elections: These are two of the best-dressed presidential candidates in living memory.
Up until the last weeks before the Aug. 20 first round, most analysts expected President Hamid Karzai to handily retain his preeminence – in both politics and dress. But former foreign minister Abdullah Abdullah seemingly came out of nowhere with his crème-fraîche French jackets and violet ties.
By the time Mr. Karzai emerged last week (five hours late) to publicly accept a runoff, his flashy green cape and pointy wool chapeau – once exotic to Western eyes as a sort of King Friday of the Hindu Kush – felt somewhat, well, dated.
In fact, Karzai was visually overpowered by the wall of suits to his right worn by the UN representative, US Sen. John Kerry, and the ambassadors of the US, Britain, and France. Nothing says Western authority like a row of suits.
---