US defense bill approves money for Sons of Afghanistan
(Read article summary)
The defense bill signed into law by President Obama Wednesday provides money to pay Afghans to stop fighting. It's modeled after a similar successful effort in Iraq.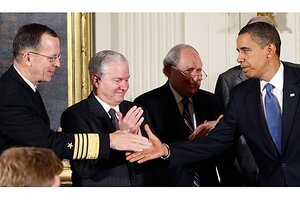 Pablo Martinez Monsivais/AP
Tucked within the sprawling $680 billion defense bill (which runs to more than $1 billion for each of its 650 pages) that President Barack Obama signed into law on Wednesday afternoon is a provision that allows the Pentagon to dip into a pool of about $1.3 billion "to support the reintegration into Afghan society of those individuals who have renounced violence against the Government of Afghanistan."
While the dry language of the bill calls it "reintegration," what it amounts to is the codifying of a practice that yielded enormous success in limiting the Iraqi insurgency over the past few years: Bribing insurgents not to shoot at Americans and, perhaps, start providing the sort of intelligence help that could have headed off an attack in Kabul that killed six UN workers on Wednesday.
Paying one's enemies to come in out of the cold -- and maybe fight on your side -- is a practice that's nearly as old as warfare, and something deeply ingrained in Iraqi and Afghan tribal culture. But there was strong US cultural resistance to paying for people's acquiescence, if not allegiance, at the start of the Afghanistan and Iraq wars. The feeling was that people should want to be America's allies because they agreed with the US, not because they were on the payroll. Making friends with and financially rewarding a man who was recently trying to kill US troops also didn't sit well with many officers and soldiers.
---