Russians to ride a nuclear-powered spacecraft to Mars
(Read article summary)
President Dmitry Medvedev says Russia will spend $600 million on a nuclear-powered spacecraft to take men to Mars, and beyond. Is it safe?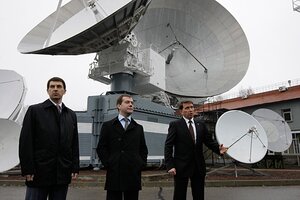 Vladimir Rodionov, RIA Novosti, Presidential Press Service/AP
MOSCOW – A nuclear-powered spaceship that can carry passengers to Mars and beyond may sound like science fiction.
But Russian engineers say they have a breakthrough design for such a craft, which could leapfrog them way ahead in the international race to build a manned spacecraft that can cover vast interplanetary distances.
They claim they'll be ready to build one as early as 2012.
In a meeting with top Russian space scientists Wednesday, President Dmitry Medvedev gave the nuke-powered space craft a green light and pledged to come up with the cash to cover its $600-million price tag.
"It's a very serious project, and we need to find the money," Mr. Medvedev told the scientists.
Small nuclear reactors and atomic batteries have long been used to power unmanned spy satellites, and both NASA and the former Soviet space program spent huge sums trying to design a safe system that could propel a spacecraft once it left the Earth's atmosphere (see Project Orion and Project Prometheus), analogous to the way nuclear-powered submarines operate.
Most manned spacecraft are propelled by chemical rockets, and supplement their energy needs with solar panels. But experts say existing rocket technology would be impractical for long-distance flights, even for a voyage to our nearest planetary neighbor, Mars.
"The energy requirements for a three-year flight is very great, and that calls for a technology that can deliver a lot of power," says Andrei Ionin, an independent Moscow-based space expert.
---