Why Somali pirates are hijacking yachts in Seychelles
(Read article summary)
Missing British couple's yacht was found adrift near the Seychelles. Somali pirates are going further afield to dodge US, European naval patrols.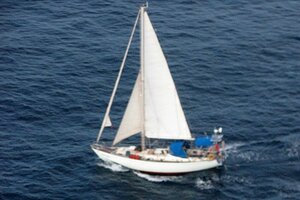 EU NAVFOR/AP
JOHANNESBURG, SOUTH AFRICA – With a mild tropical climate, magnificent palm-fringed beaches, Creole cuisine – and a distinct lack of naval patrols – it's easy to see why the Seychelles Islands are a new base for Somali pirates.
Just this week, pirates from the port city of Haradhere, Somalia, picked up a Russian-owned tuna trawler with a crew of 25 and hijacked a British couple on their yacht – both of them just a few hundred miles off the Seychelles Island chain in the Indian Ocean.
According to Agence France-Presse news service, a European Union naval patrol plain spotted pirate skiffs aboard the Russian owned, Thai-flagged "Thai Union 3" fishing ship. A known Somali pirate leader said his men also captured Paul and Rachel Chandler, on their way from the Seychelles islands toward Tanzania. The Chandlers' yacht was later discovered adrift, without its owners.
---