North Korea warns US: negotiate or else
(Read article summary)
North Korea is ratcheting up pressure for its longtime goal of bilateral talks with the US.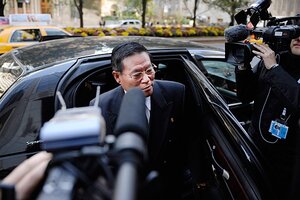 Steve Chernin/Reuters
SEOUL, SOUTH KOREA – North Korea issued a demand Monday for dialogue with the United States with a message that carried an implicit threat: talk or else.
Unless the US agreed to bilateral dialogue, said the comment by a spokesman for North Korea's foreign ministry, as reported by Pyongyang's Korean Central News Agency, North Korea would "go its own way."
The message represents a clear attempt to ratchet up pressure on the US as North Korea pursues its longtime goal of negotiating with the US while isolating South Korea. North Korea has long sought dialogue with the US, never more so than in recent weeks. The question is whether the North, if talks are not held soon, will precipitate another "crisis."
The spokesman, not identified by name, did not elaborate, but the clear implication was that North Korea would not otherwise consider a return to six-party talks on its nuclear program – and might carry out more tests of long-range missiles, as well as nuclear devices, despite strong sanctions imposed after the last nuclear test on May 25.
---