Why African countries are boycotting climate change talks
(Read article summary)
UN climate change talks in Barcelona have stalled as African countries say the world's rich nations must do more to cut emissions.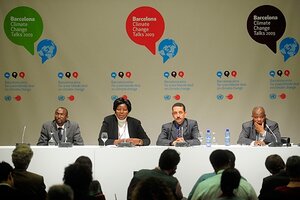 Manu Fernandez/AP
Talks over how to cut back global carbon emissions to ease the effects of climate change have broken down, with African nations arguing that rich nations are not doing their fair share.
The latest round of talks, scheduled for Nov. 2-6 in Barcelona, are aimed at looking into a number of natural remedies that might help manage the rise in global emissions of carbon dioxide, one of the main by products from the burning of oil, coal, and other fossil fuels in electrical power plants and heavy industries.
Richer nations (except the United States) agreed at a 1997 United Nations-sponsored forum in Kyoto, Japan, to reduce their industrial emissions by 11 percent to 15 percent from their 1990 levels by the year 2020. But a growing number of developing nations, many of them in Africa, argue that richer nations such as Japan, Britain, Germany, and the US (which did not sign the Kyoto Protocol) should cut emissions by as much as 40 percent in order to slow down climate change.
"They're saying let's focus on the real issues, which is targets for developed countries," South African delegation head Alf Wills told Reuters news agency in Barcelona. Richer nations are using "delaying tactics" rather than talking about how Europe and the industrial nations can share the burden more fairly in cutting back on carbon emissions, he said.
---