Obama brother emerges from quiet life in China to promote book
(Read article summary)
President Obama's half brother emerged from his usually low-key life in the Chinese boomtown of Shenzhen to promote his semi-autobiographical book, which describes their father as abusive.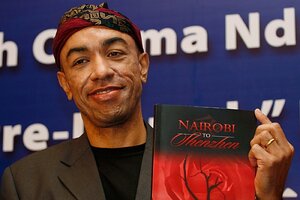 Bobby Yip/REUTERS
BEIJING – By the standards of some other presidential siblings, Mark Obama Ndesandjo – the US president's half brother who lives in China – is a positive boon.
Normally he keeps quietly to himself in the southern Chinese boomtown of Shenzhen where he lives with his Chinese wife, practicing calligraphy and teaching piano to orphans.
On Wednesday, though, he emerged briefly to promote a semi-autobiographical book he has published which he says draws on his childhood with an abusive father – who was President Barack Obama's father, too.
"My mother used to say of my father, he's a brilliant man but a social failure," Mr. Ndesandjo, who took the name of his stepfather, told reporters at a short press conference in Guangzhou.
That was pretty much the image the US president painted of his dad in his best-selling memoir "Dreams From My Father": no scandalous revelation there. And his half brother resolutely refused to discuss politics with reporters.
---