Israel says weapons shipment a war crime, Iran and Syria cry foul
(Read article summary)
Israel's Netanyahu said Thursday a large arms shipment seized this week was sent by Iran to Syria and Hezbollah, and charged this was a 'war crime.'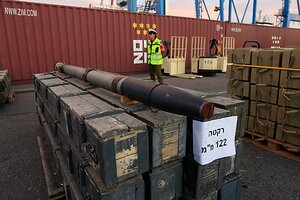 Tsafrir Abayov/AP
Israeli Prime Minister Benjamin Netanyahu said Thursday that a large Iranian weapons shipment that Israel seized on Wednesday – and alleges was destined for Hezbollah militants in southern Lebanon – constituted a "war crime." He said the United Nations Security Council should convene a special session to discuss the issue.
"The bulk of the shipment included rockets whose aim is to hurt our citizens and kill as many civilians as possible,'' Prime Minister Netanyahu charged in a press conference. Iran and Syria said there was no weapons shipment, and Hezbollah said whatever the cargo, it was not intended for them.
Israel seized the German-owned freighter Francorp in international waters near Cyprus after it had departed Iran, transited the Suez Canal, and made a brief stop in Egypt. The Israeli navy said it found 500 tons of Katyusha rockets, mortars, bullets, and grenades in containers belonging to an Iranian shipping line, and said the ship's manifest indicated the cargo was destined for Syria. Both Iran and Syria have supplied arms to Hezbollah in the past.
---