Police erect barricades at Berlin Wall celebration, detain revelers
(Read article summary)
At celebrations for the fall of the Berlin Wall, police erect barricades and detained revelers who sought to break through.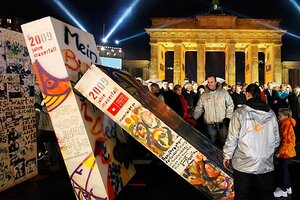 Fabrizio Bensch/Reuters
BERLIN -- On Monday night during celebrations of the 20th anniversary of the Berlin Wall coming down, German police set up barricades hundreds of yards from the site of the celebration, refused to let people through and detained some unruly revelers.
The police said it was a necessary crowd control measure, but it led to an almost surreal reenactment of the dangerous dashes East Berliners used to make for the West a generation ago. Citizens sprinted to get closer to the action with the police in hot pursuit. Some were caught and taken away, though it wasn't immediately clear if they had been formally arrested.
The barricade was set up at the intersection of Unter den Linden and Glinkastrasse two blocks east of Brandenburg Gate in the former East Berlin, where former US President Ronald Reagan famously said "Mr. Gorbachev, tear down this wall" in 1987. About three hundred people crowded against the barricades, only to be refused entry.
During a reporter's 45 minutes at the scene, the police did not make a formal announcement telling people that the celebration was closed, despite police using a bullhorn for other purposes. In a private conversation an apologetic policeman said that he had been ordered to close the gate at 7pm because the crowd there to see heads of state pass through Brandenburg Gate had already grown too large.
One German-American tourist who came to Berlin specifically to witness the celebration and spoke privately with police said an officer told him that there was fear that allowing people through the gate could cause a stampede. The same tourist thought it was ironic that former President Reagan was closer to the Brandenburg Gate in 1987 than some tourists who had traveled to celebrate the fall of the Berlin Wall could get today.
The multinational crowd that gathered outside the gate was peaceful until police vehicles began making their way to the barricade. Told to clear away by officers inside the line they howled in disapproval. One person tried to make a break through only to be captured by the police.
---