New Vatican album: Can Pope Benedict sing?
(Read article summary)
Pope Benedict stars on a new Vatican CD featuring a hymn sung by the pontiff. Will the album soften his image?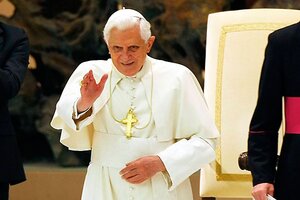 Alessandro Bianchi/Reuters
Move over, Snoop Dogg?
As an white-haired octogenarian bachelor from a scholarly background, he hardly fits the profile of the first-time music artist.
But that has not stopped Pope Benedict XVI from launching his debut album – an eight-track CD of Gregorian chants and specially commissioned classical music on which he sings a hymn and recites prayers in five languages, including Latin and his mother tongue, German.
The album, called "Alma Mater - Music from the Vatican," will be released on Nov. 30, in time for the pre-Christmas shopping rush.
It has been produced by the Geffen record company, putting the Pontiff in the unlikely company of the label's other artists, such as Snoop Dogg, Nirvana, and Guns 'N Roses.
The question is: Can Benedict carry a tune?
"I have known six popes. Not one of them sings and knows music as he does," said Monsignor Pablo Colino, the conductor of the choir of St. Peter's Basilica at the Vatican, which provided the choral backdrop to the papal pipes.
In 1999, a similar album was produced using archival recordings of Pope John Paul II singing, chanting, and praying in five languages.
Benedict has a copy of the new album but has not yet said what he thinks of it, Father Federico Lombardi, the Vatican's official spokesman, told a packed press conference Tuesday in Rome.
The album may help the German-born Benedict soften his stiff, standoffish image.
Nicknamed "God's Rottweiler" for his conservative views when he was first made pope in 2005, he has struggled to win the levels of popularity enjoyed by his much-loved predecessor, Pope John Paul II.
"The pope is open to new ways of evangelization ... to experiment with new ways to transmit a spiritual message that the world greatly needs," said Father Lombardi.
---