Thailand and Cambodia in row over Thaksin ahead of Obama visit
(Read article summary)
Thailand viewed Cambodia's wining-and-dining this week of exiled former Thai PM Thaksin Shinawatra as anything but a neighborly gesture. Obama arrives in Singapore Saturday to meet with Southeast Asian leaders.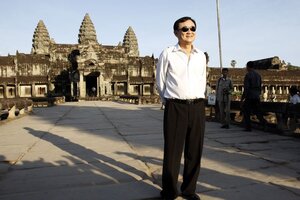 Heng Sinith/AP
A visit by a former leader to a neighboring country normally stirs little comment. But the arrival here of Thailand's former Prime Minister Thaksin Shinawatra has caused a nasty diplomatic row between Thailand and Cambodia.
It's not hard to see why. Mr. Thaksin, who was ousted by a military coup in 2006 and lives in exile in Dubai, is scheming to make a comeback in Thailand. He's wanted at home on a corruption-related conviction. The Thai government has revoked his passport and sought his extradition.
You might expect Cambodia, a neighbor and fellow member of the Association of Southeast Asian Nations (ASEAN), to assist Thailand in tracking down their man. ASEAN puts great stock in warm relations among its members, who agree not to interfere in each other's politics.
But you'd be wrong.
Far from turning him in, Cambodia's veteran Prime Minister, Hun Sen, has embraced Thaksin as an "eternal friend." On Thursday, Thaksin gave a lecture to a roomful of civil servants in his new role as an economic adviser to Cambodia. He has been wined and dined by his host.
---