China bans 'Obamao' shirt, fearing offense to Obama
(Read article summary)
In China and the US, the 'Obamao' shirt – which puts President Barack Obama's face between Mao Zedong's iconic cap and jacket – has been a kitschy and right-wing favorite.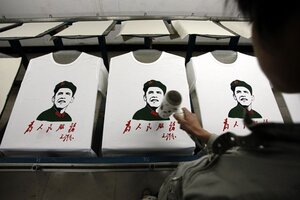 David Gray/Reuters/Files
BEIJING – Leaving no stone unturned in their efforts to be gracious hosts to Barack Obama, the Chinese authorities have gone so far as to ban a T-shirt they fear might offend the US President.
Known as the "Obamao" shirt, the design juxtaposes two iconic silk screened images – putting Mr. Obama's face between a Mao cap and the collar of a Mao jacket.
The item was selling like hot cakes in a Beijing souvenir shop until the government cracked down. "The Industry and Commerce Bureau came round last week and told us that if we sold this T-shirt we'd be closed down" said one hawker on a popular tourist street who preferred not to give his name.
He lamented the loss of business. "People are coming here every day asking for those T-shirts," he added.
In China, the image comes across as witty and cool. (This was planning to buy a couple for his teenage sons for Christmas, but didn't act fast enough.) The Chinese government's ban struck many here as another absurd overreaction. Perhaps Beijing is better attuned to US political sensibilities than one might think, though. The same T-shirt is advertised to US buyers on the web (at $9.99 apiece) as an "anti-Obama" item.
---