Maersk Alabama repels Somali pirates in second attack
(Read article summary)
The Maersk Alabama, the same US ship attacked by Somali pirates last April, was hit again today. But hired guards repelled the attack.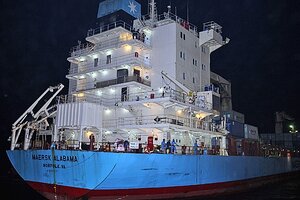 Sayyid Azim/AP/File
JOHANNESBURG - You know the Somali pirate season is in full swing when the same ship gets attacked twice in a single year.
The US-flagged Maersk Alabama – most recently attacked by pirates seven months ago, and rescued by US Navy Seals – was attacked today by Somali pirates using automatic weapons 350 miles east of the Somali coast. Guards posted on board repelled the attack, and European Union naval patrols swung into action to locate the pirates.
A European Union Naval Force spokesman said that it was not unusual for ships to be attacked twice in the waters off the Somali coast, and credited the presence of armed guards for preventing the pirates from taking control of the ship. "At least this time they had a vessel protection detachment on board who were able to repel the attack," Captain John Harbour told the Associated Press.
Pirate attacks have been on the upswing for more than a month, now that the monsoon storm season in the Indian Ocean and Arabian Sea has ended. Just this week, pirates have attacked and boarded a North Korean-crewed freight ship, and pirates released a Spanish fishing trawler after payment of a reported $3.3 million. (Editor's note: This has been corrected from an earlier version that described the ship as "North Korean-flagged.")
---
Follow Stories Like This
Get the Monitor stories you care about delivered to your inbox.