Sarah Palin urges Israel settlement expansion, attacks Barack Obama
(Read article summary)
Sarah Palin calls for an expansion of Israel settlements – challenging 40 years of US policy – in an interview with Barbara Walters. Palin also criticizes Barack Obama for urging an Israeli halt.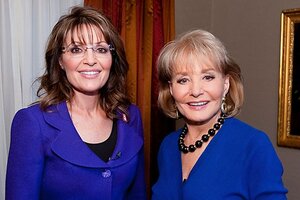 Steve Fenn/ABC/Reuters
Former Vice Presidential candidate and Alaska governor Sarah Palin has been something of a news generating machine of late, thanks to the publicity tour for her recently released memoir, "Going Rogue."
Whether a minor public spat with Levi Johnston (father of her grandson), her appearance with daytime talk show queen Oprah Winfrey, describing Katie Couric's interview style as "badgering," or describing Newsweek's photo choice for a recent cover on her as "sexist," she's been able to cause gallons of ink to be spilled over almost all of her comings and goings (this news organizations is a guilty as anyone).
But while most of her comments and coverage have been about personalities, or campaign styles, or whether she was comfortable with her $150,000 wardrobe during the presidential campaign, she is also beginning to provide glimpses into her policy beliefs, as supporters continue to urge her to run for the Republican nomination and challenge President Barack Obama in 2012.
---