West Bank: Al Jazeera loses love over Palestinian national anthem parody
(Read article summary)
Al Jazeera ran a scathing parody of the Palestinian national anthem on a program to show how divided society has become.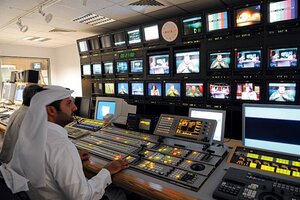 Newscom
• A local, slice-of-life story from a Monitor correspondent.
Palestinians closely identified with Fatah – the mainstream faction of the Palestine Liberation Organization (PLO) and the leading force of the Palestinian Authority (PA) – have long since fallen out of love with Al Jazeera, the Arab satellite channel based in Qatar. The channel, Fatah officials charge, often tilts toward Hamas.
But on a recent program that focused on how miserably divided Palestinian society is, Al Jazeera broadcast a scathing parody of the Palestinian national anthem, "Mawtini," meaning "My Homeland."
The lyrics include:
 
Catastrophe, hypocrisy, calamity!
Oppressors, cunning people who lack sincerity, you are controlling my homeland.
I see you suffocated, constricted, mouth folded.
Reconciliation will not appear in the form of unity….
Each party wants to satisfy the enemy, and neither cares about mosque or country.
All they care about is humiliating their people.
All they care about is the dollar, the dinar, and their properties and real-estate projects....
---
Follow Stories Like This
Get the Monitor stories you care about delivered to your inbox.