Tony Blair loses EU presidency bid, Belgium's Van Rompuy wins job
(Read article summary)
Former UK Prime Minister Tony Blair missed his chance to be the first EU president, with members selection the more low-key Belgium Prime Minister Herman Van Rompuy for the job.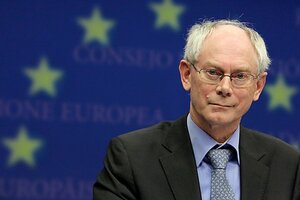 Geert Vanden Wijngaert/AP
Former British Prime Minister Tony Blair lost his shot at the European Union presidency Thursday, when the UK withdrew its support for his nomination at a meeting of the group's 27 leaders in Brussels. Current Belgian Prime Minister Herman Van Rompuy won the job.
Supporters of the Blair candidacy had argued that he was an internationally known figure that would give the new EU presidency the sort of star power and clout that could make it a powerful voice on the international stage.
The recent passage of the EU's Lisbon Treaty created the post of president and foreign minister, with the intent of giving a united foreign policy voice to a group of nations that have increasingly integrated their economies but have strongly independent foreign policies. Until now, the EU presidency has been rotated every six months between the group's national leaders. The new post will be for two-and-a-half years.
But the fact that the Blair candidacy was being pushed by a British Labour government that is expected to be dumped in favor of the conservative Tories in elections next year undermined his bid – as did Blair's past vigorous support for the unpopular Iraq war.
---