Obama grants 'interview' to Cuba blogger Yoani Sanchez
(Read article summary)
US President Barack Obama responded to interview questions that dissident Cuba blogger Yoani Sanchez posted on her blog, Generation Y.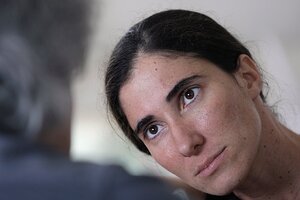 Enrique De La Osa/Reuters
MEXICO CITY – Cuban blogger Yoani Sanchez has quickly emerged as one of the best-known critics of the Castro regime. The Monitor met with her last year in a café in Havana after she had won Spain's prestigious Ortega y Gasset award. Since then she has been chosen as one of Time's 100 most influential people for her daily blog, Generation Y, and won Columbia University Graduate School of Journalism's Maria Moors Cabot Prize (which made even more news because Cuban officials denied her a visa to travel to New York to accept the award).
Now she is in the spotlight again: President Obama just granted her an "interview," answering questions on her blog that she posed to both the American president and Raul Castro, the Cuban leader who took the reigns from brother Fidel in early 2008.
"Thank you for this opportunity to exchange views with you and your readers in Cuba and around the world," President Barack Obama begins, also congratulating her for the Columbia University award. "You richly deserve the award. I was disappointed you were denied the ability to travel to receive the award in person."
---