Burka Barbie to raise funds for Save the Children
(Read article summary)
Burka Barbie is being sold as part of a 500-Barbie doll collection to raise money for Save the Children.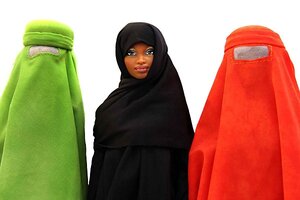 Newscom
Burka Barbie?
In her latest makeover, Barbie is dressed in a stylish vermilion head-to-toe burka with a mesh peep hole. She also shows off a similar lime burqa, as well as slightly less confining, traditional black hijab.
The latest from Mattel?
Well, sort of. It's part of a 500-Barbie doll collection unveiled, as it were, Friday in Florence, Italy. The exhibition of international outfits modeled by the most famous anatomically incorrect doll, dressed by Italian designer Eliana Lorena, is going to be auctioned by Sotheby's to raise funds for Save The Children.
The exhibition – and sale – are part of the 50th birthday "celebrations" of the doll that American Ruth Handler created in 1959.
But a "Muslim" Barbie is not a new idea. In fact, should Mattel decide to mass produce a Burka Barbie, she'll have some competition.
Saudi Arabia outlawed Barbie in 2003, saying that the doll's "revealing clothes and shameful postures, accessories, and tools are a symbol of decadence to the perverted West."
---